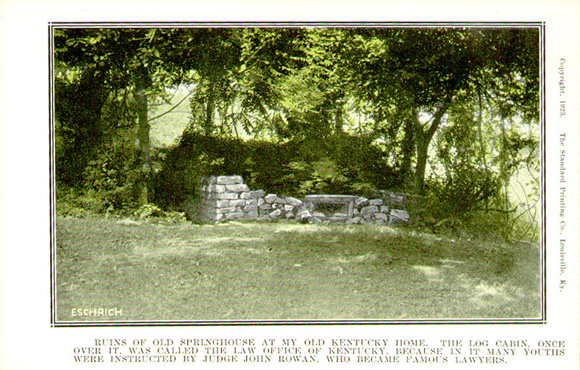 Caption: "Ruins of old springhouse at My Old Kentucky Home. The log cabin once over it was called The Law Office of Kentucky. Because in it many youths were instructed by Judge John Rowan, who became famous lawyers."
This is another one of the "dedication day" postcards, with the green watercoloring and all. One thing you won't find at the park are these ruins; the ruins were rebuilt, complete with a cabin!
The ruined foundation was relaid, though it now is high enough to have a door and walk into. A cabin -- reportedly a cabin that was Judge Rowan's office in downtown -- was rebuilt on the foundation.
Today, a desk, some books and bookshelves are inside the cabin -- referred to by park workers as the "law office." Back in the 70s, the state had an audiotaped presentation about Rowan and a dummy dressed in period clothing in the cabin. There's not much here to see, but its a very pretty little scene, with the spring and trees.
| BACK |