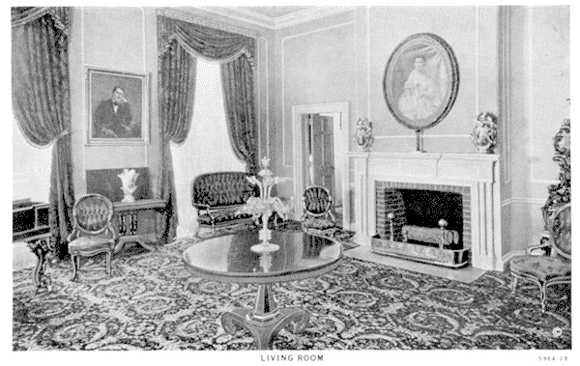 This postcard is one of the series of postcards produced not long after the state acquired Federal Hill. This shot shows the home's Living Room, and was taken from the hallway entrance to the room, looking at the eastern side of the room. Note the portrait of Stephen Foster hanging on the wall. Nearly all of the furniture shown in this photo is still on display today at the home.
On the back side of the postcard you find an interesting logo, consisting of the name "My Old Kentucky Home, Bardstown, Ky." combined with the first few bars of the music to the song, "My Old Kentucky Home."
A caption states: STEPHEN COLLINS FOSTER composed music for 230 songs and hyms. They are doubly his, coming from his pen. He belongs peculiarly to Kentucky, where his fame will always be hallowed by writing his immortal song "MY OLD KENTUCKY HOME," at Federal Hill. On this same visit, he gazed on the grave of his uncle, John Rowan Sr., which game him the inspiration to write another popular song, "MASSA'S IN DE COLD, COLD GROUND."
I'm not sure any of this tale holds water today, but it certainly makes for great legend!
First, there's no proof Foster wrote the song at Federal Hill (historical aside: up until a few years ago, a desk at the home was purported to be the ACTUAL desk Foster penned "My Old Kentucky Home." Eventually, historical accuracy made it necessary to move away from that tale, though it's conceivable his visit to Federal Hill may have given him some inspiration in his songwriting career.
| BACK |