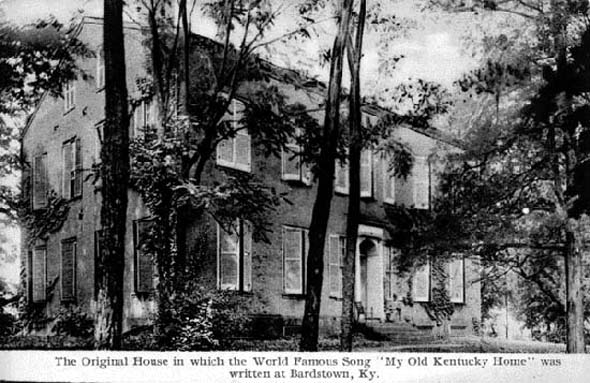 This photograph of the exterior of Federal Hill was most likely taken after the state's acquisition of the property. Note the disappearance of not only the heavy growth of ivy, but the missing vegetation in front of the home on each side of the porch that is shown in other older photos I have here.
This photo best shows the changes to the home's roof line. If you look closely, you'll see that there is not distinctive gutter arrangement on the front, and the roof is nearly flush with the side of the home.
Compare that with the more modern color postcard from the 1960s, and you'll see how much better better Federal Hill looks with the revised roof.
There is no date or postmark on the postcard. The caption states "The Original Home in which the World Famous Song "My Old Kentucky Home" was written at Bardstown, Ky." It was printed by the Kraemer Art Co., of Cincinnati.
| BACK |